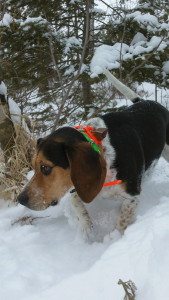 Living in the Ottawa Valley we face both ends of the temperature spectrum. Looking out the window this morning the hot, lazy summer days are a distant memory as everything is enveloped by a sparkling white cold. Winter in the Valley is amazing, and I wouldn't want to be anywhere else, (okay sometimes I do wish a warm beach was close by) but we do need to make sure we take a few extra steps to prevent cold-related injuries. Here are 3 tips to stay healthy in the cold.
There is no such thing as bad weather, just bad clothing!
The key to enjoying winter outings is to wear the right clothes. Base layers made of fleece or polypro are ideal. They help move moisture away from your skin and keep you warm and dry. Avoid things made of cotton! If they get wet you will get cold. Really cold. Add other layers of fleece or wool as needed and be sure to have some sort of wind layer (gore-tex is a popular choice because of it's breathability) to go on the outside. They key is to stay dry! If you are outside sweating (or preferably before you start sweating) take a layer off.
Stay fuelled up and keep moving
One of the best ways to keep warm is to keep moving. Imagine if you are standing on the street waiting for a light to turn so you can cross. It's really cold out. Do you stand there motionless and think 'wow I'm cold' or do you move around, do some squats and keep moving? Opt for option B. Doing some movement (lunges, squats, walk, swing your arms, jumping jacks, etc.) is going to warm you up. You also need to make sure you have some gas in the tank to burn! Be sure you are staying hydrated and well fed.  Avoid alcoholic drinks or things with caffeine in them though. You may 'feel' a bit warmer at first but they actually will make you colder.
Recognize the signs of Hypothermia
Hypothermia can be life threatening and we need to recognize the signs and symptoms before it's too late.  For mild and moderate hypothermia look for shivering, complaining of the cold, loss of motor control and changes in behaviour. As our core temperature drops we start to get the 'umbles'. We grumble, mumble, fumble and stumble. If you notice this happening we need to STOP HEAT LOSS and START HEAT GAIN. If we don't we are looking at possibility of severe hypothermia – a life threatening issue. People with severe hypothermia may have stopped shivering, slurring or unable to speak and eventually may lose consciousness. If you suspect someone might have severe hypothermia Call EMS/911 and stop any further heat loss.
Remember that it doesn't need to be -40 to be affected by cold-related issues. There are lots of factors that can make a person colder (moisture, medications, not used to the environment, etc.) so be on the lookout for any and all signs there is a problem. Be a good first aider and recognize that you need to take action and hopefully you can prevent things from becoming a real emergency.